Cockatoo Experience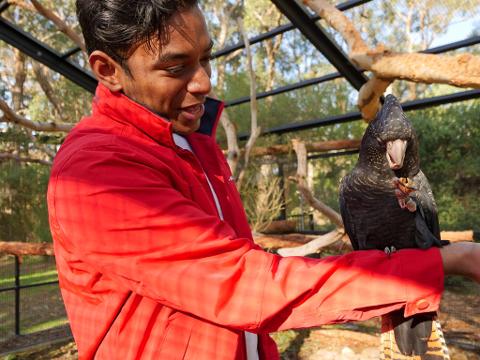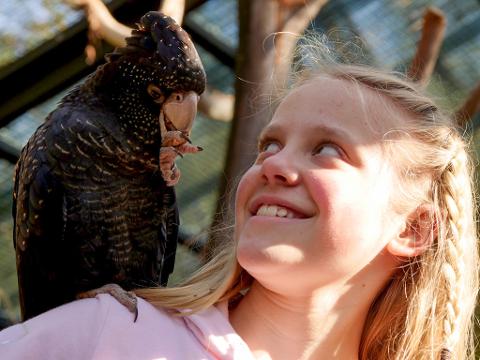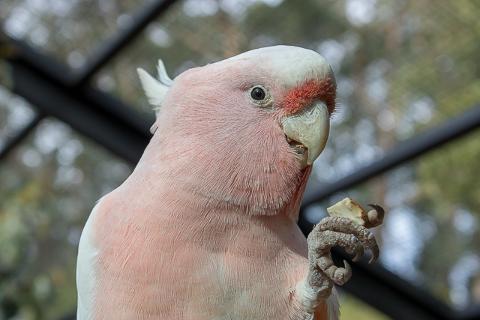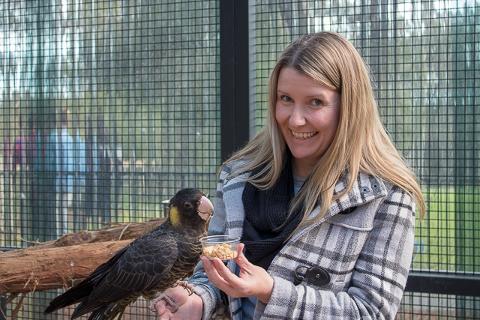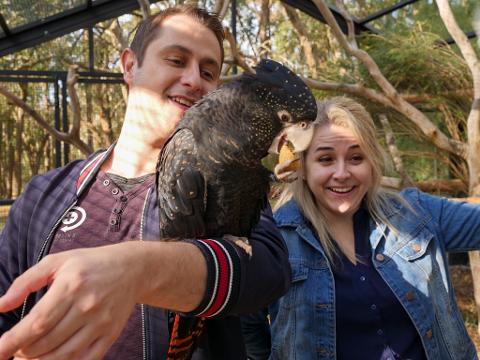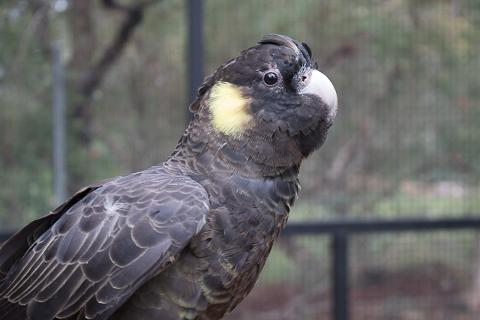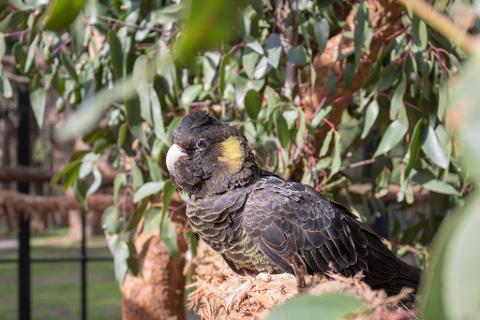 Duración: 15 Minutos (aproximadamente)
Ubicación: Crafers, South Australia
Código de producto: A100136001
All of the birds in our Cockatoo Aviary are rescued or rehabilitated animals who have bonded closely with humans, and therefore cannot be released back into the wild. By providing up-close experiences, these birds will act as ambassadors for their species, educating guests about the plight of these birds in the wild, the issues around human contact, and the difficulties concerning captive raising of birds that can live for 50 years or more.
Tour Highlights:

Come inside our Cockatoo Aviary and embark on a very memorable experience with our resident cockatoos, as they engage with you.

These birds have either been rescued or hand-raised, and have an affinity with humans. We are keen to share their stories with you, and offer you the chance to get up-close with these beautiful birds and get to know them better.

Under the supervision of one of our experienced keepers, there is a high likelihood that our birds will fly and land on you, spending time on your arms and shoulders while also feeding from your hand. There will be plenty of opportunity for you to take photos on your own device.

Through demonstration, you will explore the different adaptations and feeding behaviours of the various species. Learn about their conservation status, their life span, and how we can create habitat for our magnificent parrots by protecting and planting natural food sources.

Y

our participation in this experience helps us to save these magnificent birds. For every Cockatoo Experience ticket sold, Cleland Wildlife Park volunteers will propagate and plant a habitat or food plant for these species, helping to conserve wild populations into the future.



Program Details:
Availability: Daily
Age: 6 years and over. Children must be accompanied by a paying adult.
Time: 11.00am (guests to meet at Information Booth 5 min prior)
Number: 1 to 4 guests
Duration: 15 minutes
Cost: $16.00


Booking conditions:
Entry to Cleland Wildlife Park is not included. Valid entry is compulsory for all encounters.

Bookings can be made upon arrival at the park, however we recommend booking online prior to your visit to avoid disappointment of missing out.

Minimum number of guests is 1 and up to a maximum of 4.

Minimum age is 6 years old, children 6 years to 15 years inclusive must be accompanied by a paying adult.

Please note, we use nuts as treats for our cockatoos. Please advise our staff if you have a nut allergy.

Please note, we have a heat policy for the welfare of our cockatoos. If the temperature is forecast to reach 37 degrees at Mt Barker, then the experience will be cancelled and you will be refunded in full.

We recommend that any jewellery is removed prior to entering the aviary.

We recommend that guests wear enclosed footwear.

Pre-payment is required to secure your booking.

Cancellations made by Cleland Wildlife Park may occur due to extreme weather, or other conditions, outside of the park's control. You will be notified if this is to occur and will be invited to reschedule, or be refunded in full.

If a Total Fire Ban day is declared, Management reserve the right to cancel the tour.

Cancellations made by a customer requires a minimum of 5 days' notice to receive a refund. Cancellations shorter than this period will not be refunded. If a refund is authorised, it will be made within 28 days of booking date.

If you are late, your tour will still commence and conclude at the designated time.

Participants must follow all instructions given by keeper staff, for safety reasons.

Cleland Wildlife Park does not take responsibility for any injuries sustained.

This experience is not wheelchair accessible, however please contact us to discuss alternative options.

All participants must adhere to current Government COVID-19 requirements.